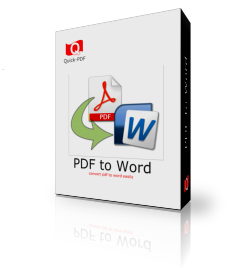 It is well known that editing PDF files is easier said than done. For a casual user, converting PDF into one of Word's native formats is probably the best option. You only need to choose the right converter because of multiple differences between the Adobe PDF format and Word formats (DOC and RTF).

Nice and Easy Conversion
PDF to Word Converter is a superb choice if you want to have a Word document, which you can easily edit. The conversion goes without a hitch, no need to bother about anything!
To get an RTF or DOC file, drag-and-drop your PDF file onto the converter's window, and click the Start button. That's all you need to do! No need to configure anything, which might not be the case with other applications. And the quality of conversion is excellent even when using the default settings — the result will look just like the original PDF document!

Features for Novice and Experienced Users
Our application lets you do the conversion as quickly as possible by eliminating manual operations. For example, it detects the text encoding in your PDF document and produces a Word document that has the same encoding. It doesn't matter if there are multiple languages in the original document — our converter can deal with all of them equally well!
If you need to convert PDF documents to Word on a regular basis, you'll surely like the batch conversion option, command line interface, and the opportunity to fine-tune the default settings. For example, batch conversion lets you select multiple PDF documents and convert all of them by clicking the Start button. Yes, it can be that easy indeed!
Conclusion
Converting PDF documents to Word can be as easy as ABC — you only need to use the right tool! You are welcome to download the trial version of our application and check it out for free. We even offer an unconditional refund during the first 30 days of using the commercial version of the converter, because we are sure that you'll like our product. It's a win-win situation, so don't miss the opportunity to make your life a little bit easier!

Awards

Last changes:
September 2010: Version 2.1 released, making converter compatible with the new PDF specifications
System requerements:
Pentium 300, 32 Mb RAM, 100 Mb hard disk space, Windows 2000 or higher.
Price:
Starts from $29.95 USD. 10-day fully functional evaluation version is available to download.