There are lots of freeware and shareware .PDF to .DOC converters available online. With competition getting tougher every day, software developers should do their uttermost to meet customers' requirements and boost performance.
Quick-PDF PDF Converter is a shareware tool with a number of advanced features, which make it a treasure for business persons whose daily activity requires a lot of paperwork.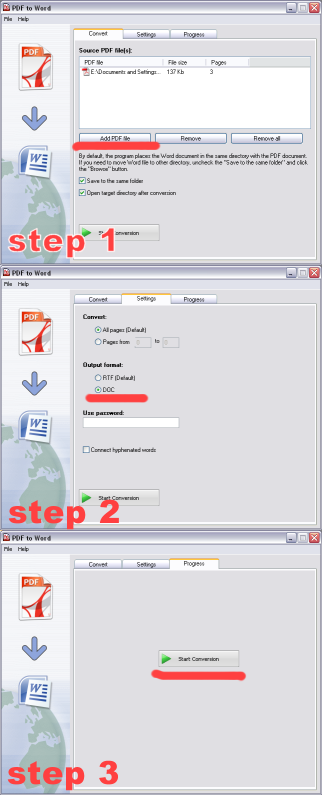 When converting PDF to DOC, it is important that the output document retains the formatting of the input file. In other words, the content of the output file should be identical to that of the input file. This is not an easy thing to do, considering the complex structure of PDF files. Quick-PDF PDF Converter is one of the few converters that fulfill this requirement.
Quick-PDF PDF converter converts all types of PDF documents to Word, RTF and other formats with all the formatting intact. This tool has a user friendly interface; therefore, it is good for both professionals and novice users. The program can be run via interface, from the desktop and command line. It is possible to save pages of large PDF documents and electronic books as separate Word files. You can choose not to do that and save your document as a multi-page file.
Using Quick-PDF PDF Converter does not necessitate big training. Its intuitive interface tells the whole story. When you launch it, you will see what to do.
Quick-PDF PDF Converter converts PDF files to DOC format in batch. In other words, it can manage a hundred files in one go. If you want to have all your PDF files converted to Word, hit the Check All button. The program will check-mark all the files contained in your selected folder. If there are a few files you do not want to convert, uncheck them manually. If you have changed your mind, hit the Uncheck All button.
The biggest drawback of PDF converter is that it is shareware. However, there is the 10-day trial version, which you can use to test the converter's efficiency; chances are you will find it worth the price!